I don't know about you guys, but I tend to take care of everyone else first and put myself on the back burner. Usually if I have extra money, I buy the kids new clothes, accessories, essentials, etc. One of my goals for 2021 is to get better at self-care. I am starting small with healthy and beauty products I should've been using all along. Here are some self-care products that I am loving so far!
The Billie Razor
I know you've seen advertisements for the Billie Razor on a lot of influencers/bloggers Instagram pages. I always thought, those girls don't actually use this razor. There's no way it can be as life changing as they say it is. I bought it thinking, it's $9, I'll cancel the subscription when I get it. But I never cancelled the subscription. I am not exaggerating when I say I am genuinely in LOVE with Billie (the razor)! It works so well. I don't have to change the cartridge as often as I used to with other name brand razors, and they are so easy to replace. The razor has 5 super sharp blades, so I only have to shave like once or twice a week compared to the 3 or 4 times I was shaving before I purchased the Billie. The magnetic holder is the cherry of top of this brilliant razor. You guys, I am not kidding when I tell you that this razor is life changing and TOTALLY worth the $9 investment. I highly suggest making the switch to the Billie!
OGX Smoothing Coconut Coffee Scrub Body Wash
Body wash probably doesn't strike you as a self-care item. But it can really transform your shower experience. I was in the market for a new body wash and was so intrigued by the coffee scent, so I bought this one. I am really glad that I did! I love the coconut/coffee scent! Coffee is one of my favorite scents- it just makes me happy when I smell it. There is something so homey and warm about the scent of this body wash. I love how it exfoliates while I wash. It leaves my skin CRAZY soft (way softer than the body wash I was using prior). It is also BPA and cruelty free, which is a huge plus! ! Its sister product, smoothing + coconut coffee body cream, is always sold out at our local Target. As soon as I can get my hands on it, I will let you know if it is as good as the body wash!
OLAPLEX
My stylist, Ramie, turned me on to this line a couple of weeks ago. I have been dealing with really bad damage due to color (mainly bleach) and heat. I have a lot of breakage. In a nutshell, my hair is just really unhealthy right now. Ramie gave me small samples of No.3 Hair Perfector and No. 5 Bond Maintenance Conditioner at my last appointment with her. I have been using the No.3 Hair Perfector 2 times per week and I have seen a noticeable difference already! Note- You have to leave it in for at least 10 minutes on damp hair. When I use this, I make sure it's a shaving night, that way the 10 minutes doesn't seem like an eternity. Though, I have read that you can actually sleep in it and rinse it out in the morning. I have been using the No.5 Bond Maintenance Conditioner 1-2 times per week and it leaves my hair so soft, and tangle-free. Both of these products have made a huge difference for me in such a short period of time. If you have damaged hair, definitely check the OLAPLEX system out! Click here to take their hair diagnostic quiz!
Side note- If you are in central Illinois and need a hairdresser, I highly recommend Ramie. She has the cutest little shop in LeRoy. Check out her Facebook page!
It Cosmetics
I have been on the market for anti-aging products for a long time. I never pulled the trigger because 1. They are expensive and 2. I thought if I didn't think about getting older then I wouldn't age. 😉 I reached out to our Avery and Ellis community to see what some of your favorite anti-aging/skin care products were. There were so many great options to choose from. I researched all of them and really loved the It Cosmetics website and reviews. I decided to go ahead and order the smallest sized products that I could from It Cosmetics (aka the cheapest) just in case I didn't love them- because like I said anti-aging products are expensive. I have been using Hello Results (which is anti-aging serum and smoothing cream all in one) once a day, and Confidence in a Cleanser (facial cleanser and serum in one) twice a day for about two weeks. So far, I am loving the results. I just ordered Confidence in a Cream (hydrating moisturizer) last night. I am so excited to continue to see the results! If you are in the market for anything skincare/makeup related head to It Cosmetics website. They have a real person you can chat with to figure out what skincare products will work best for you. And they even have a rewards program! I am so grateful to our Avery and Ellis followers for recommending these products!
Nature Made Vitamin D3 Gummies
Did you know there are so many benefits to vitamin D3? Vitamin D3 can help your bones, teeth, immune system, mood (this one is a HUGE reason I starting taking it), heart, and can even help with weight loss. This was a no brainer to me, I had to start taking it! I take 2 gummies every morning, and actually am excited about taking them because they taste so good! The strawberry, peach and mango flavors actually taste like strawberry mango and peach (not like my kid's fruit snacks that taste nothing like what they are supposed to).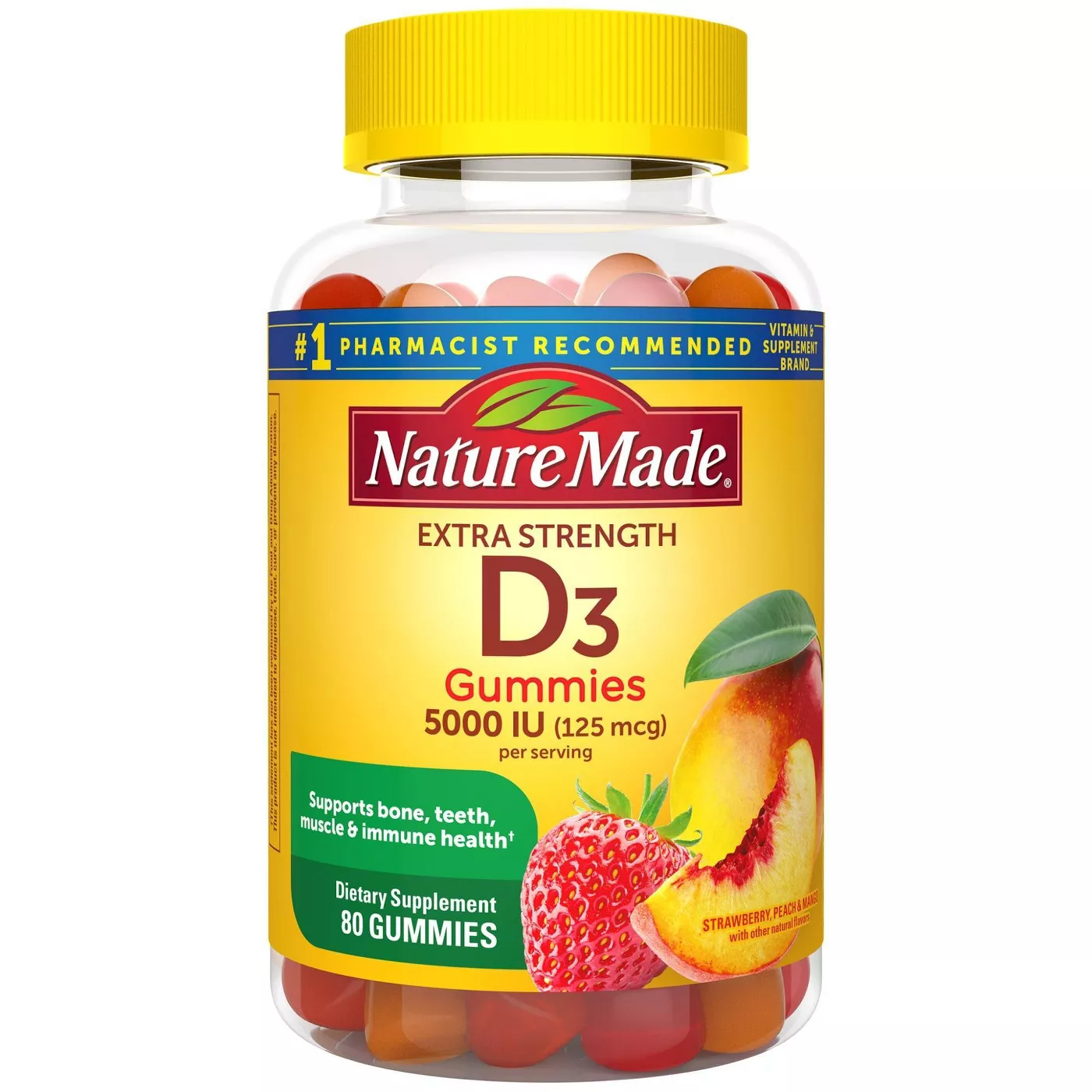 I am SO eager to continue to try new products! Please leave all of your self-care product suggestions in the comments below. If I try your suggestion out, I will mention you in my next self-care post!